R.S
Alliances
Current Alliances
None
Past Alliances
None
Family
Mother
None
Father
None
Siblings
None
Video Game Universe
Video Game Universe
Pokemon
Homeland
Unknown
Species
Robotic Salamance
Profession
Profession/Occupation
Unknown
Roleplayer
Roleplayed by
Minecraft
R.S is a robotic Salamance.
Backstory
Created for desturion, R.S escaped the lab he was being built in before his wings were built. As a result, he shuts off at times but is extremely powerful, rivaling up to former rp character Shaymin and the all powerful Tsunami. He first appered in Shroomapocalypse.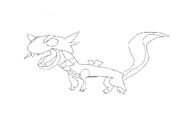 Ad blocker interference detected!
Wikia is a free-to-use site that makes money from advertising. We have a modified experience for viewers using ad blockers

Wikia is not accessible if you've made further modifications. Remove the custom ad blocker rule(s) and the page will load as expected.