Rupee is the currency of Hyrule.
Additional Info
Rupees look like small gemstones, but most are worth little in value. They come in five different colors: green, blue, red, purple, and silver. Green rupees are the most common and the least valuable, roughly a little bit less than one U.S. Dollar. Silver rupees are worth the most, about 50 U.S. Dollars.
Gallery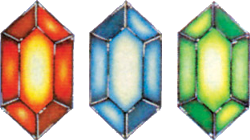 Red, Blue, and Green Rupees
Trivia
The name of this currency comes from the currency in India and a few other counties. The real-world currency has the same name.
Unlike in the LoZ games, you can not find Rupees by cutting grass, rolling into trees, et cetera.
Ad blocker interference detected!
Wikia is a free-to-use site that makes money from advertising. We have a modified experience for viewers using ad blockers

Wikia is not accessible if you've made further modifications. Remove the custom ad blocker rule(s) and the page will load as expected.