Spell is a young, male Abra
Additional info
All we know for now is that he appears in hyrule field and loves to sleep in his own floating soundproof bubble. When he is awake, he is quite energetic for some time. Most of the time, though he appears to be lazy.
J.Ace will update this page as he evolves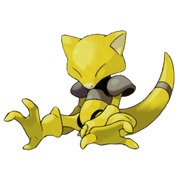 Ad blocker interference detected!
Wikia is a free-to-use site that makes money from advertising. We have a modified experience for viewers using ad blockers

Wikia is not accessible if you've made further modifications. Remove the custom ad blocker rule(s) and the page will load as expected.